This January, like every new ye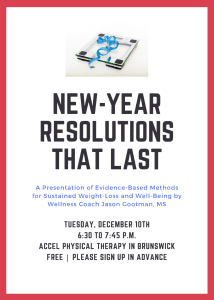 ar, individuals make their resolutions – lose weight, eat better, exercise more.  The question though — will they stick to their plans?
On December 10th, we're proud to feature Wellness Coach Jason Gootman, MS, as he presents on evidence-based methods for sustained weight loss and well being!
Join us at 6:30 for this FREE program! If you're interested be sure to register with us!
We're proud to be Brunswick (Maine) and Greater Brunswick's go-to for physical therapy. Located on the Brunswick Landing, we're here to get you healthy – and happy – once again! When you need physical therapy, do not hesitate to reach out to us!