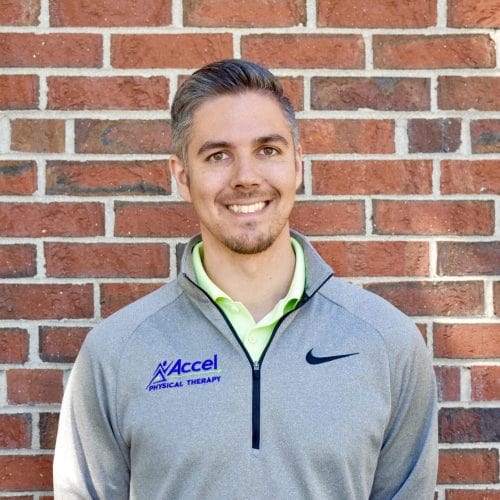 Scott Hannigan
PT, DPT, Cert. DN, Cert. VRS, Cert. MST
Owner and Physical Therapist
Scott earned his Doctorate of Physical Therapy degree from the University of Vermont in 2009. Since, Scott has specialized in outpatient orthopaedics and sports injuries. A Maine native, he developed an interest in the physical therapy profession during his high school years through sports and exercise. An interest in human anatomy and treating an active population prompted him to pursue post-graduate education in physical therapy.
Scott has been practicing since 2009 in both Maine and Massachusetts, and opened Accel Physical Therapy in his home state of Maine in 2017. He has focused his post-graduate training in a multi-faceted approach to physical therapy, to provide the best possible care for each individual patient. He has training in spinal manipulation, instrument assisted soft-tissue mobilization, selective functional movement assessment, vestibular rehabilitation, Mulligan Concept, Blood Flow Restriction Training, custom orthotic fitting, Titleist Performance Institute, and more.
Scott truly believes that physical therapy should be centered on each individual patient, using evidence-based practices, and an outcomes oriented approach.
"Optimal physical health and function is achieved through physical therapy when the patient and clinician work together as a team. There is nothing more rewarding than seeing that smile on your patient's face when they achieve their goals with physical therapy."
Scott enjoys spending time with his family and friends, taking advantage of New England and all it has to offer through hiking, camping, skiing, golfing, wake surfing and waterskiing. He also enjoys traveling and trying new cuisine.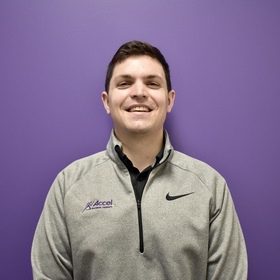 Ethan Burke
PT, DPT, Cert. VRS
Owner and Physical Therapist
Ethan earned his Doctor of Physical Therapy degree from Franklin Peirce University in 2019. He has been practicing in the outpatient orthopedic setting since, building his treatment skills for a variety of different conditions. Ranging from sports related injuries to geriatric conditions, Ethan enjoys working with all. Before becoming a physical therapist, Ethan earned his bachelor's degree from UMaine Presque Isle in physical education non-teaching with a concentration in fitness and wellness. He had a variety of enriching experiences while studying in the county and competed on their nordic ski team.
He enjoys the continual learning that accompanies the profession of physical therapy and likes to build strong relationships with his patients. Ethan puts a strong emphasis on educating his patients and ensuring they not only understand their current condition but understand how and why physical therapy will benefit them. Ethan's treatment approach is multi-faceted, utilizing manual therapy to address mobility restrictions in joints and soft tissues, but also implementing neurological re-education to modify movement patterns. He has also received clinical training in dry needling.
Ethan is a Maine native and enjoys a variety of physical activities including alpine skiing, running, mountain biking, hunting, and backpacking. Physical therapy gives Ethan the satisfaction of helping others return to their passions, whether that be running a marathon or spending time with grandkids.
Hillary Jackson
PT, DPT, Cert. DN, Cert. VRS, Cert. MST
Physical Therapist
Hillary earned her Doctorate of Physical Therapy from Northeastern University in Boston, MA in 2016. Hillary has been a staff physical therapist with Accel PT since 2017. Hillary previously practiced in Denver, CO at a physician associated physical therapy practice. Hillary also provided skilled PT in several outpatient clinics, a top-ranked acute orthopedic hospital in Boston (New England Baptist Hospital), and a combined nursing center/subacute rehab center for the geriatric population during her time as a PT doctoral student. Hillary loves treating a variety of ages and enjoys tailoring each treatment to the specific patient and their individual goals. Hillary is very devoted to her patients' success and she takes immense pride in their achievements and the meaningful bond she creates with each patient.
Outside of being experienced in general orthopedic physical therapy and vestibular rehabilitation, Hillary also specializes in dance medicine. She has treated dancers of all genres as well as aerial performers, gymnasts, and cheerleaders. Hillary was a pre-professional ballet dancer prior to earning her physical therapy degree. She loves combining her passion for the arts with her scientific and medical knowledge of the body.
In her free time, Hillary likes exploring Maine and all of the outdoor adventures that this beautiful state has to offer. When she is not working, Hillary and her husband enjoy skiing, hiking, camping, spending time with friends and family, and indulging in the great restaurant and brewery scene where they live in Portland, ME.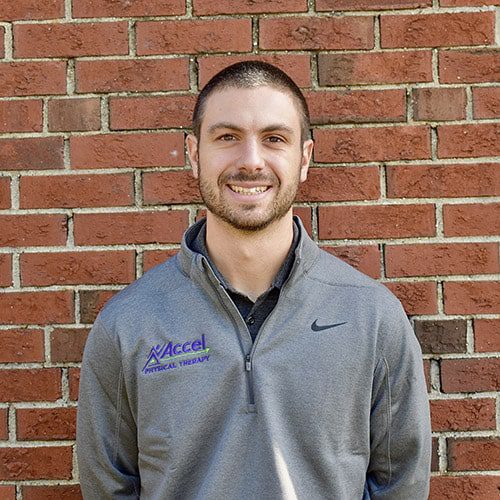 Cody Hall
PT, DPT, ATC
Physical Therapist/Athletic Trainer
Cody has been with Accel Physical Therapy Since 2020. He graduated from the University of New England in 2020 earning his Doctorate of Physical Therapy. Prior to this, he completed his undergraduate studies at Endicott College earning his certification in Athletic Training. Cody has a broad range of experience through clinical rotations working with patients in the home setting, hospital, outpatient clinics, and working directly with college and high school athletics as an Athletic Trainer. Having played baseball in college, he has a strong desire to continue to work with college athletes and in getting players who are working through injuries back on the field. Cody also really enjoys working with patients of all ages and abilities, helping them to achieve their goals with physical therapy. He believes in a multi-faceted approach to physical therapy through the use of manual therapy, corrective exercise, and through providing his patients with the tools and education necessary to manage their injuries and pain independently. He has also recently become a specialist in vestibular rehabilitation and has received level 1 training for spinal manipulation.
Cody is originally from Massachusetts, but has recently made Maine his home. He is an avid hunter and fisherman and has enjoyed exploring the Maine wilderness and ocean. He continues to play baseball recreationally in a local men's league and enjoys both skiing and snowmobiling in the winter months.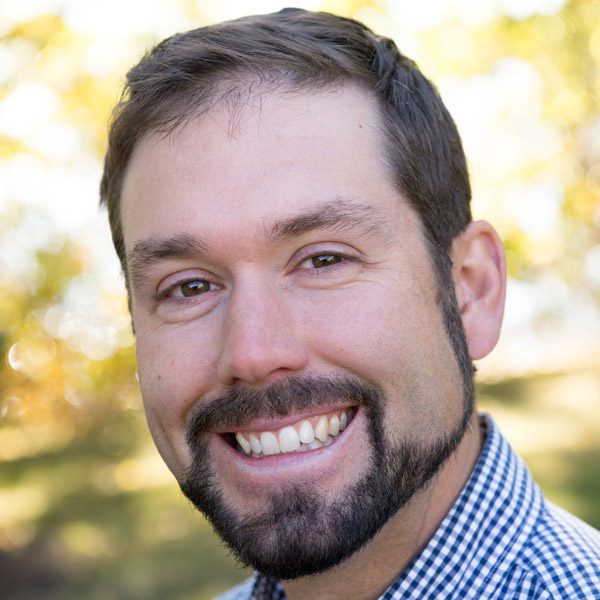 Austin Stonebraker
PT, DPT, Cert. DN, Cert. VRS, Cert. MST
Physical Therapist
Austin is a Maine native who graduated from MCPHS University (Worcester, MA) in 2015 with a Doctoral Degree in Physical Therapy. After a brief career as a project scientist in environmental consulting, he chose to become a physical therapist having been inspired by his personal experience of rehabilitating from numerous running related injuries, and meeting therapists who made a real difference in his life.
Austin has completed training in Spinal Manipulative Therapy, Dry Needling, Vestibular Rehabilitation and Blood Flow Restriction Training. He believes in a comprehensive approach of manual techniques and prescription exercise, combined with patient education for improved patient outcomes.
Austin has been involved with coaching high school soccer, alpine skiing, and lacrosse. He has a particular passion in alpine ski racing, which began at the age of 8 and continued through his college racing career.
When not on the slopes, Austin continues to enjoy the outdoors with his wife, children and their dog. They also enjoy raising their two goats and two miniature ponies.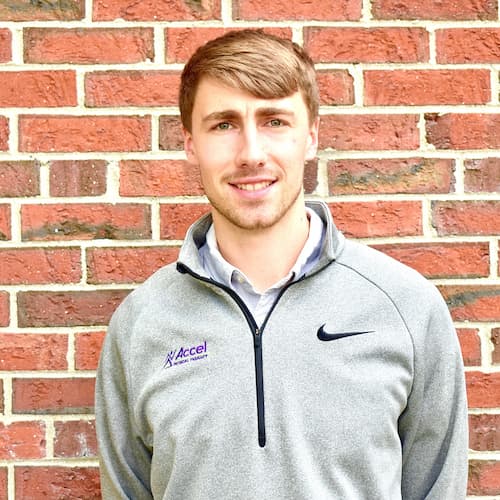 Chase Malloy
PT, DPT
Physical Therapist
Chase graduated from the University of New England in May 2023 with his Doctorate in Physical Therapy.  In 2020 he obtained a bachelor's degree in biology with a minor in psychology from the University of Maine at Farmington.  His passion for human anatomy and physiology, physical activity, and helping others led him to pursue a career as a physical therapist.
Chase has worked with a wide variety of patients throughout his clinical internships including Paralympians, college athletes, weekend warriors, aging adults, and children with developmental disabilities. He appreciates working with patients of all ages and takes great pride in helping patients meet and exceed their goals.  Chase believes in making physical therapy a fun and productive experience for his patients. 
Outside of work, Chase enjoys playing pick-up sports, being by the water, spending time with family, and exploring nature.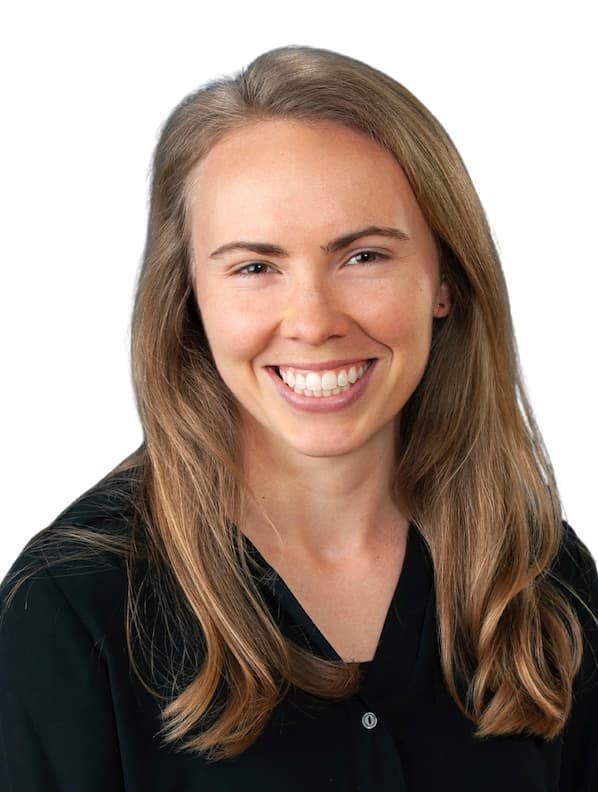 Claire Miller
Physical Therapist
Claire is originally from Maryland and became interested in physical therapy growing up as a competitive gymnast. She has worked within healthcare and wellness since graduating from high school and loves helping people pursue their goals to improve their personal health. She obtained her bachelor's degree in human biology from UCSD in 2012 and her Doctor of Physical Therapy degree from the University of Pittsburgh in 2017.
Claire has completed additional training in orthopedic manual therapy, vestibular rehabilitation, concussion, oncology rehabilitation, and pelvic health. She believes in customizing her treatments to each individual person to achieve the best results and help patients maximize their mobility.
Outside of work you will find her exploring the outdoors – hiking, camping, cross country skiing, and travelling with her husband and golden retriever, Melody.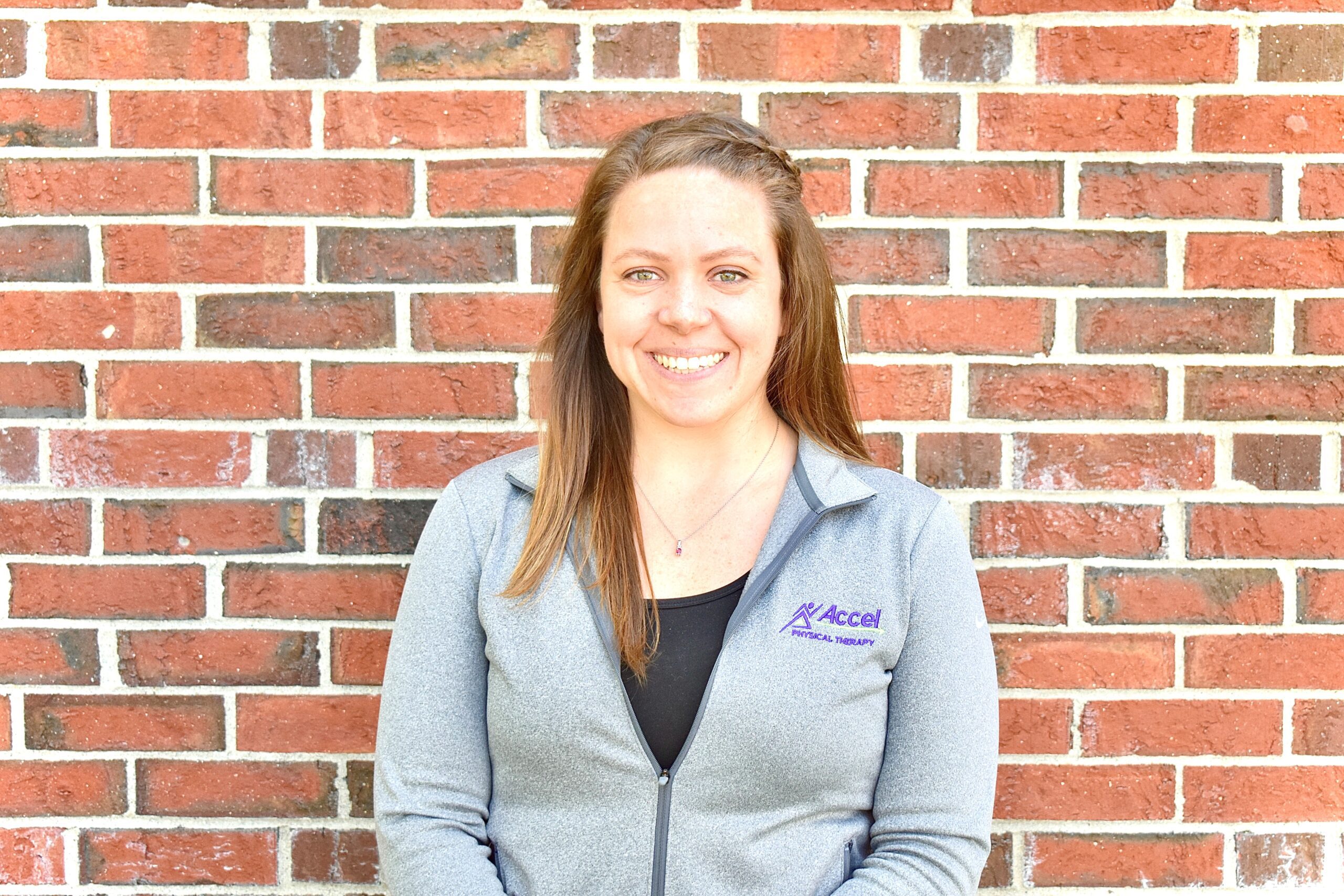 Kimberly Wallingford
PT, DPT, Cert. DN, Cert. VRS, Cert. MST, Cert. OMT
Physical Therapist
Kimberly is a Maine native who graduated from the University of Vermont in 2016 with a Doctorate Degree in Physical Therapy. Kimberly was drawn into physical therapy after watching her dad go through two spinal operations and the subsequent rehabilitation. Her favorite thing about being a physical therapist is helping patients return to their activities and achieve their goals.
She loves the orthopedic and manual therapy aspects of physical therapy. Kimberly gained a passion for manual therapy during a manipulation course she completed in New Zealand. Since graduation she has continued to develop clinically completing post graduate training in Spinal Manipulative Therapy, Dry Needling, Vestibular Rehabilitation, Dry Needling under Ultrasound, Osteopathic Manipulative Therapy, and Blood Flow Restriction Training. She has found that her personal philosophy of physical therapy aligns greatly with the vision of Accel PT.
When she's not in the clinic, Kimberly enjoys spending time outdoors. She can usually be found out on the water of Casco Bay boating or swimming. She has been an athlete her whole life and enjoys pretty much any sport she can get involved with, softball and tennis have been her most recent additions.  She is also an avid snowboarder and enjoys snowmobiling or spending time at her family's camp up north.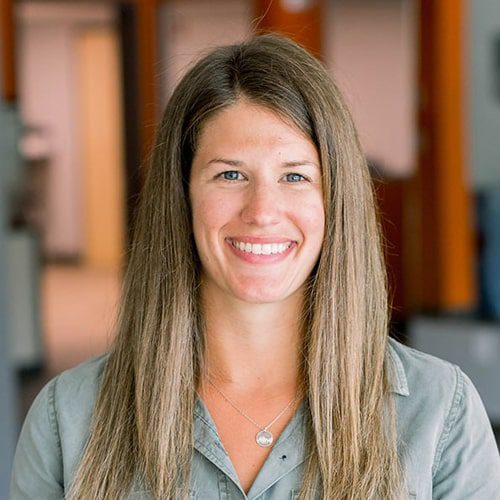 Gretchen Bobola
PTA, Cert. VRS
Physical Therapist Assistant
Gretchen was born and raised in Massachusetts. She graduated from Quincy College in 2017 with an Associate Degree in Physical Therapist Assistant Program. Gretchen was drawn to physical therapy after working as a rehab aide with children with disabilities. She has experience in outpatient care, pediatrics, and acute care hospital settings.
Gretchen enjoys progressing patients through their exercises and seeing them achieve their goals. She also loves giving patients the tools they need to continue to lead a healthy and active lifestyle. Gretchen believes continuing education is the best way to serve her patients and allow them to get better quicker!
When she is not in the clinic, Gretchen enjoys hiking, paddle boarding, walks with her dog, spending time at Damariscotta Lake and spending time with her extended family in North Conway, NH.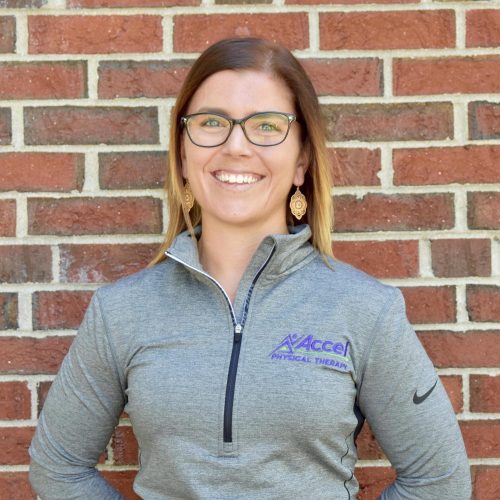 Jordan Drouin
Office Coordinator
Jordan is a Maine native who grew up in the Midcoast region, and currently lives in Topsham. She graduated from the University of New England in 2014 with a BS degree in Applied Exercise Science and is currently working on her Certificate in Medical Billing and Coding. Jordan joined the Accel team in 2017 with 3 years of experience in the medical field as a rehabilitation aide and administrative assistant.
In her spare time she enjoys hiking with her dog, loves to run, and participates in many local road races and events around New England.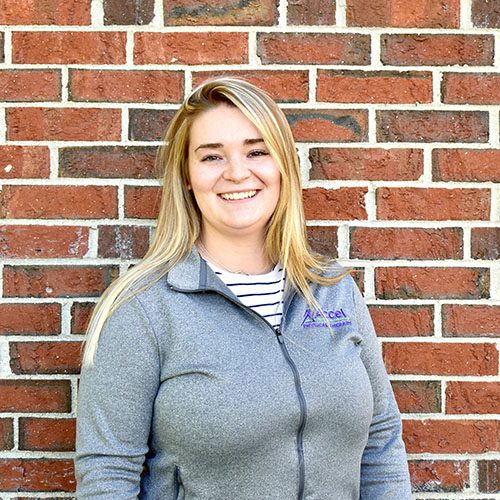 Jocelyn Bernier
Office Coordinator
Jocelyn was born and raised on the coast in Maine. She graduated from the University of Maine at Augusta with a BS degree in accounting and has plans to expand her education in the administrative side of health care. Relaxing and exploring the beach are some of her favorite things to do and will always remind her of home. In her free time, Jocelyn enjoys creating art, cooking new recipes, and spending time running around with her two dogs.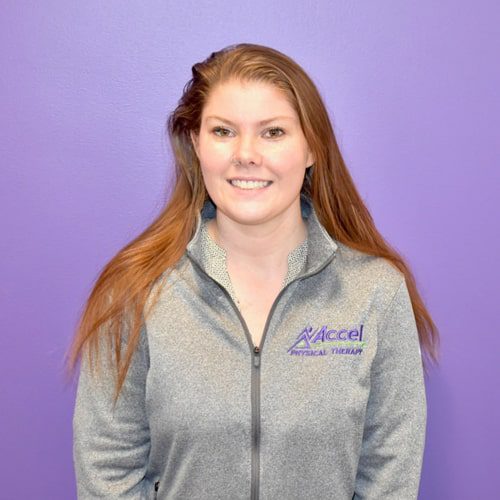 Shayann Hamilton
Medical Receptionist
Shayann joined Accel Physical Therapy in December of 2022. She is native to the Midcoast and currently lives in Brunswick with her husband and four children. She attended CMCC and has work experience as a CNA and Medical Assistant. When Shayann is not working you can find her outside on hiking trails, reading, scrapbooking, or taking her kids on new adventures through Maine and New Hampshire. She is a lover of all animals, especially her pet snakes and two dogs Paco and Pumba. Shayann loves interacting with people and learning from others as often as she can.